Trevor planned this entire vacation. The term "planned" may mean that 3 weeks before our trip, we were both searching the internet frantically trying to find a hotels and destinations that still had availability, but to his credit, he pulled off one of my favorite adventures to date.
I was going in a totally different direction, Myanmar to be exact. Temples, hot air balloons, desserts, and villages by the river. When he mentioned the Phillipines, I was skeptical at best. I had heard poor reviews of both Manila and Boracay. A few days later, he sent me a text message of a beautiful, remote beach scene with pristine skies and water. It swayed my interest, El Nido (the destination) made me rethink the Phillipines. The promises of a relaxing beach vacation, and sunshine swayed me to agree, and we booked our flight that night.
Hours of internet searching later, we had a bit of an issue: we could not find any hotels with availability for our trip. It was over Christmas and apparently the rest of the world plans their vacations in advance. I had to go to Shanghai for work, so our search was put on hold. I returned home to the amazing surprise that Trevor had patiently pieced together several hotel reservations and destinations within the Palawan Territory of the Phillipines, all I had to do was pack. 
Packing, was a serious exercise in minimalism, which Trevor executed perfectly, and I still have some room to improve on. Because of the lack of accomodations in El Nido, Trevor had found us a beautiful resort to spend Christmas eve and Christmas day on, on an island off of Puerto Princesa. The second half of our adventure ("relaxing beach vacation") would be accessible by a local road, and a 6 hour motorbike to get us to El Nido. The motorbike ride set the parameters for our our packing. Trevor, incredibly fit all of his items into a pretty standard size backpack. I stuffed my backpacking pack full of food, camera supplies, and clothes. We were ready.
We arrived in Puerto Princesa one day late due to a delay in our flights. Exiting the airport we were immediately greeted with intense sunshine, and the realization that we had no idea how to get to the dock, to get to our boat, to get to the island (Dos Palmas). Luckily for us, the Dos Palmas resort staff was more organized than we were. A man outside was waiting to pick us and several other guests up. Two short van rides later, we were at a Pier, and Trevor's name was on the guest list (much to his surprise) that allowed us to board the boat to the island.
We arrived in paradise (within paradise) in the early afternoon. A long wooden dock directed us towards the resort. As we made our way to reception, the overall feel of the island was quiet and peaceful – half resort, half wild adventure, it was the perfect mix. After a refreshing welcome drink of what I dubbed "Philippines Tang" we were sent through a brief orientation, and shown to our room.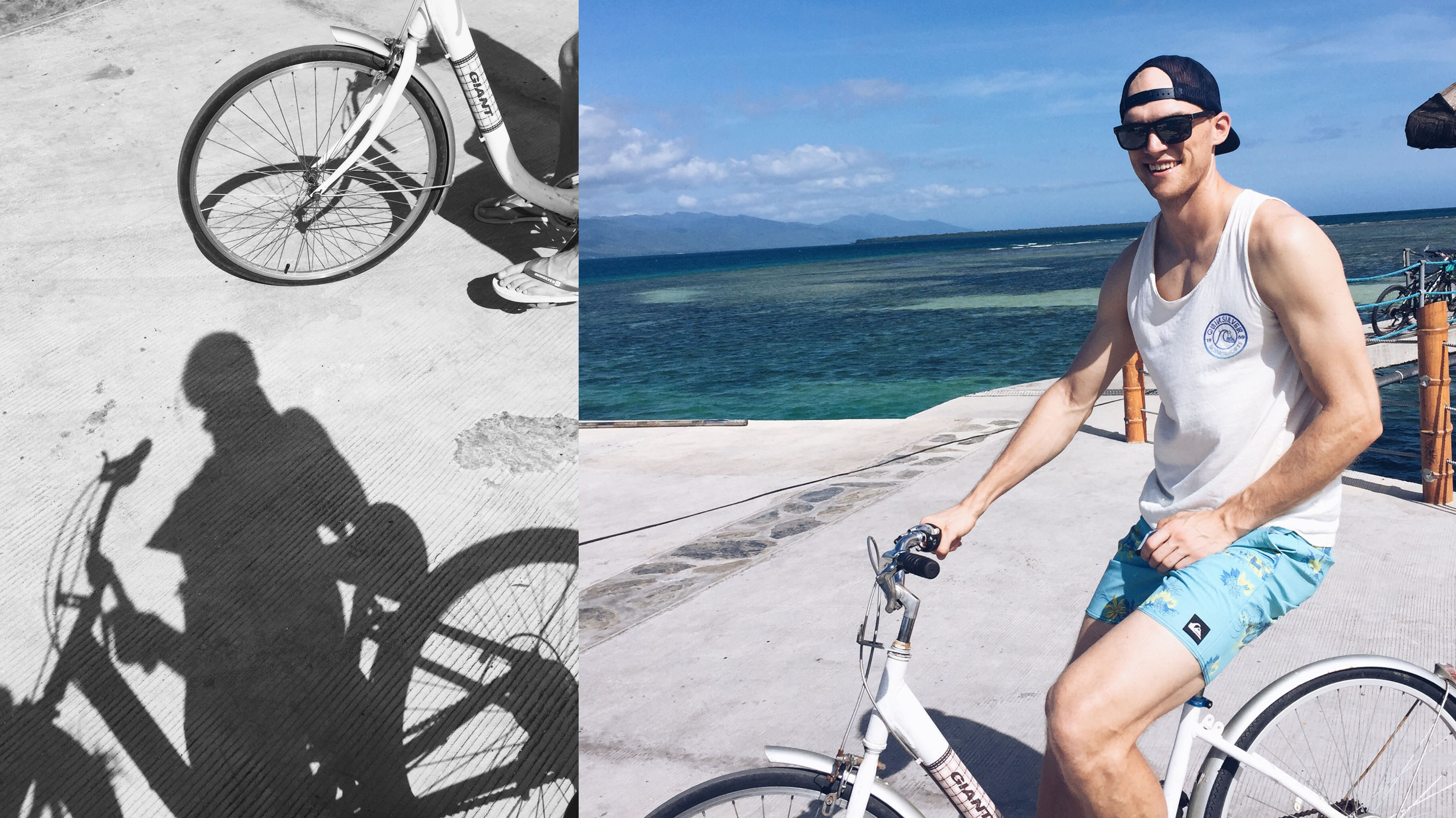 Trevor and I immediately melted into relaxation – the lack of wifi, warm weather, and friendly nature of the staff made it easy. We changed into our swim suits, hopped on the free bikes provided, and took a self guided tour of the island. Our first stop was the spa, where we booked pre-dinner massages, and then continued on to the beach. As we lay on the warm beach, the stress, chaos and noise of HK seemed so far away. It was amazing. Because of our late flight, the realization hit us that we would only have 24 hours on the island, and we wondered aloud if we could stretch our stay from one to two days? We asked the front desk if we could extend our stay while en route to our massages, and they happily agreed to book us for another night.
The next morning we woke up with no agenda – just the way Trevor likes it. Always wanting to have a "plan" I pulled my type A personality together and went for a run. Afterwards, I  joined Trevor for an adapt-style workout on our patio, while passerbys stared at us in confusion as we continued on, unfazed. A lazy breakfast followed, where I munched watermelon and eggs, watching Trevor eat 4x what the average Phillipino consumes in a day. 
After breakfast, we wandered around the island to the activities portion, and signed up for an mid-morning snorkeling trip. Trevor loves snorkeling, and being in the ocean. I used to, but at some point I became a bit more fearful of open water then I was when I was a child. But as part of my 2016 NYR, I am trying to do more things that are outside my comfort zone, and this was a perfect opportunity to put that to the test.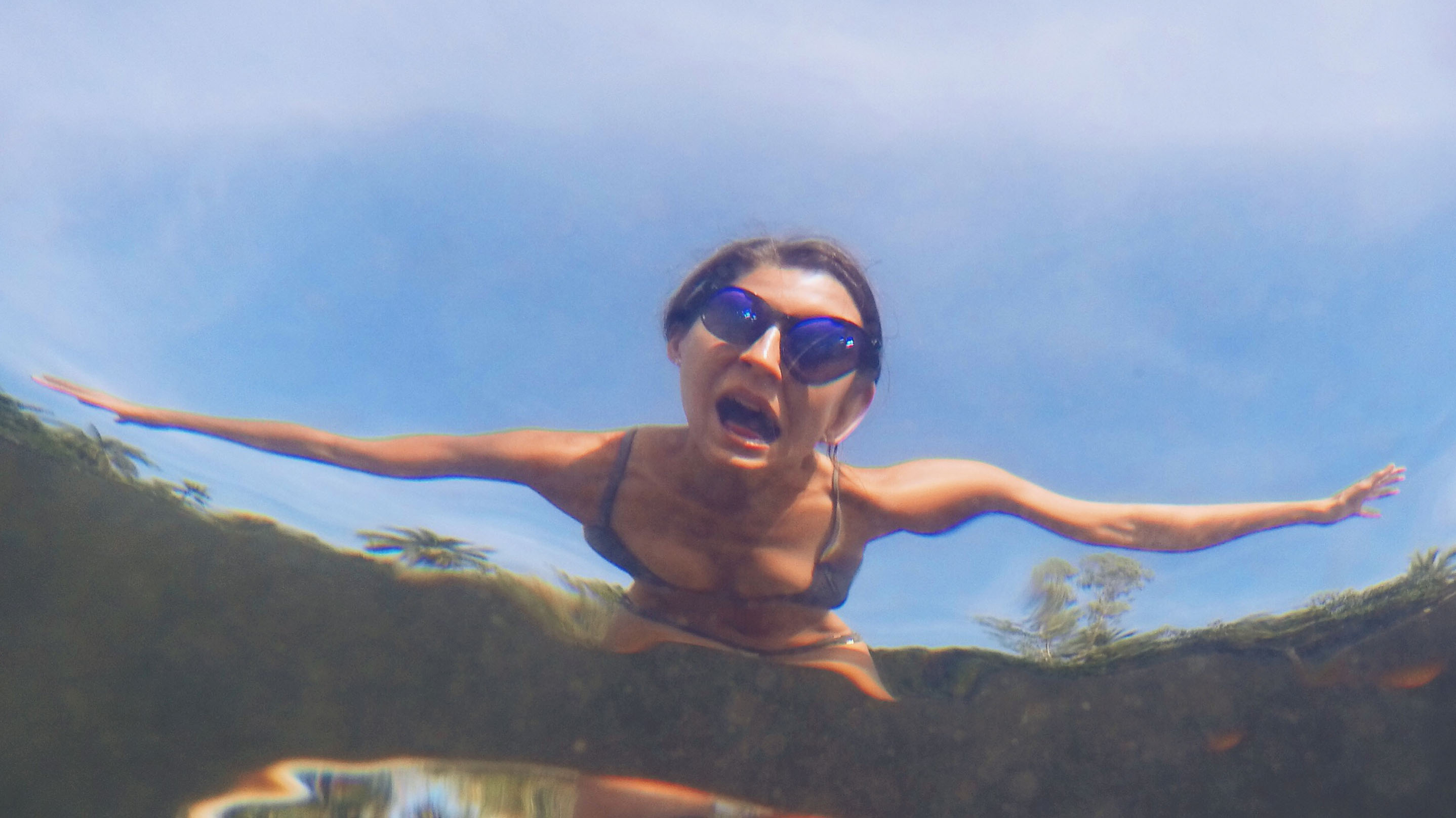 A short boat ride later, we were off the shallow shores of the island, and above beautiful reefs in deeper, open water. Trevor plunged confidently into the water, and I cautiously lowered myself down into the clear blue ocean. Once I got over my initial fear of being eaten by a shark, I followed Trevor through the reefs further and further away from our boat. It was beautiful. Colorful fish, giant corals, and other sea-things that I cannot name were everywhere. I swam for what seemed like an hour, before I noticed I could no longer see Trevor. At this point, I panicked and promptly swam as fast as I could back to the boat.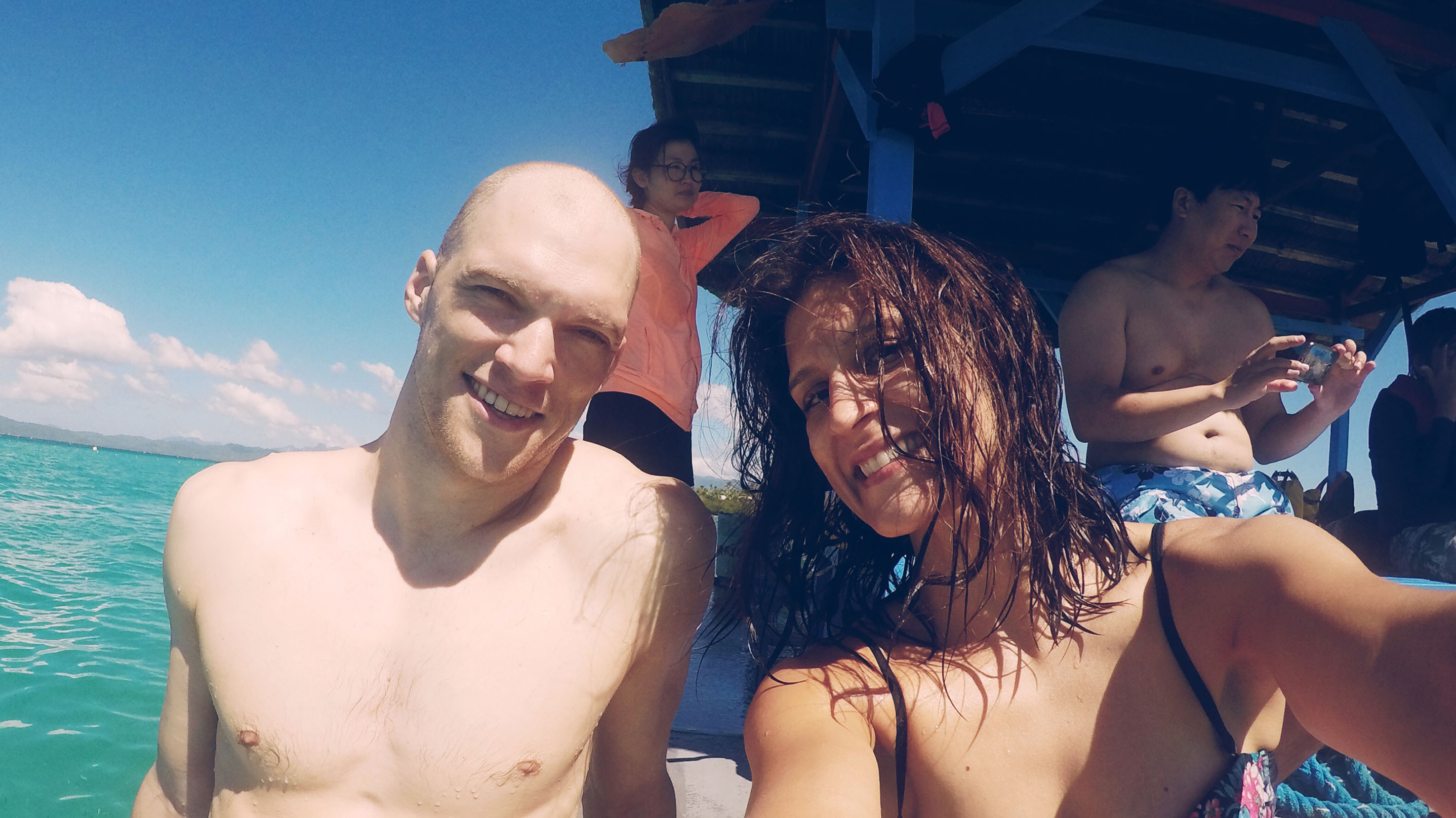 When Trevor finally returned to the boat, he had been chatting with the boat captain and had learned about a sunken WW2 Japanese fighter plane that was submerged about 400m away from where we were anchored. I wasn't sure I was up to the challenge, but in the spirit of trying more things (being less of a wimp), I agreed to follow Trevor out into the ocean. 
As we swam out, the water got cooler, and a bit murkier, and I repeatedly said the captain's instructions in my head (to keep my brain from thinking I was going to be eaten by a shark) "follow the rope on the ocean floor to the buoy, at the buoy there is a reef, head to the right of the reef". Just as my mind started to wander back to shark self defense, a reef appeared, and Trevor made a right turn. Soon, 20m below us were the remains of a plane. The body was old, and most of it's markings were washed away with age, but it was, without a doubt, a very old plane. Trevor dove down amongst the wreckage, and I swam circles at the ocean's surface (obviously on shark watch). 
After exploring the plane for a bit, we noticed our boat captain swimming out to us, it was his lunch break, and we were the only ones still snorkeling, could we come back please? Oops! Trevor and I quickly swam back to the boat. On the boat ride back to the island, I (proudly) told Trevor what an expert snorkeler I was (about 100x).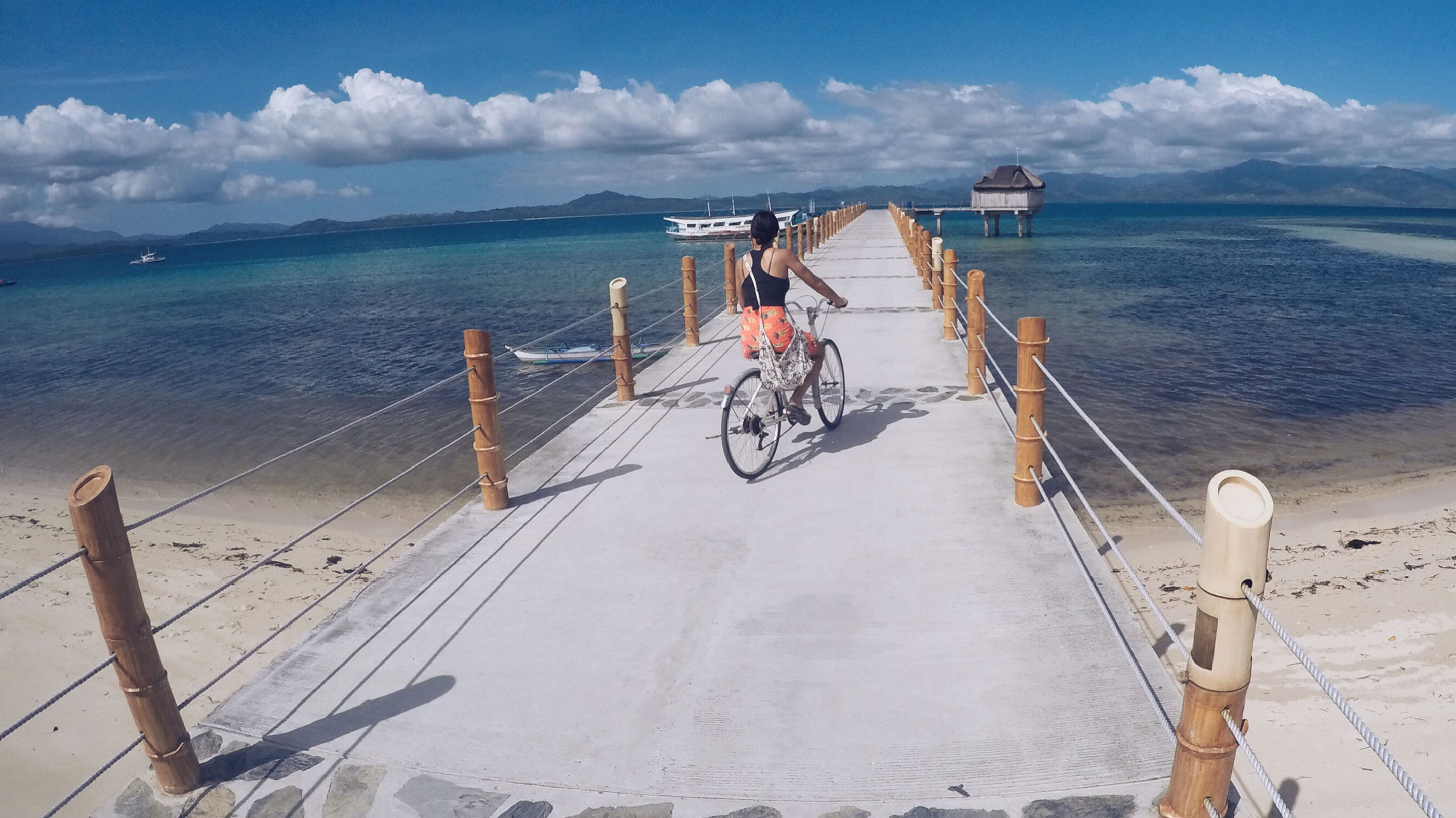 The rest of our stay in Dos Palmas was a series of fresh oceanside meals, ping pong, bike rides, swimming, and massages. As we packed up our final night, we both commented how we were so happy that we had turned our one night stay into two, and that this period of total relaxation was the perfect set up to the rest of our vacation…